My name is Rowena, I'm 22 and I live in Dublin, Ireland. This is what I make for dinner!! Let me know if you tried out any of the food. I don't like following recipes or non essential measurements, so apart from the baking, you should adjust these recipes to suit your own taste and food supply! Cooking is quicker, easier, yummier and more fun that way.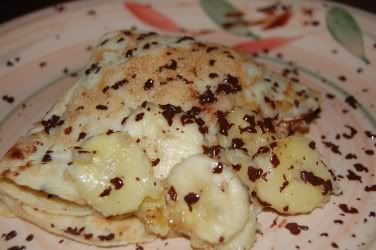 INGREDIENTS:
100g flour
Egg replacer equivalent of 2 eggs [I use Orgran]
60ml water
240ml soy milk
2 tsp sunflower oil or melted vegan margarine
1 tsp vanilla extract
3 tsp sugar
Pinch of salt
2 small bananas [sliced]
100g dark chocolate [coarsely grated] [I use Green and Blacks 70% or 80% cocoa solids]
Blend the wet ingedients [egg replacer, water, soy milk, vanilla extract and oil/margarine] thoroughly with a whisk, electric blender or food processer.
Add the dry ingredients [flour, 1 tsp sugar, and salt] gradually, and mix until the batter is smooth and slightly thickened.
Melt some sunflower oil or margarine on a frying pan and ladle the batter thinly into the pan, swirling gently until the pan is covered, but the layer of batter is not thick.  It may take you a few trys to work out the perfect ammount of batter for the size of your pan.
Return to a low heat and allow the edges of the crepe to crisp, and small bubbles to appear in the middle.  Keep it moving so that it doesn't stick.
After a minute or two flip the crepe over and cook the other side.
Stack up on a warm plate under a warm grill until you've finished the batch.
Place the sliced bananas in a pan over a very low heat with the remaining sugar, and cook gently until caramelised.
Fill the crepes with the banana mixture and chocolate.